Last year, Mark Wahlberg made it clear that he'd be interested in a sequel to The Departed, the eventual Best Picture winner.
"We may do another one, because it's based on a Hong Kong film [Infernal Affairs], and there is a trilogy. So we may do a sequel with a new cast, and a prequel and bring back the rest of the guys," he said at the time.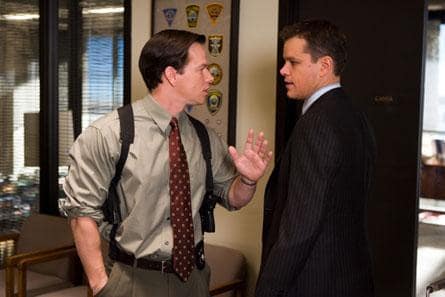 Mark Wahlberg and Matt Damon in a scene from The Departed.
More than a year later, Wahlberg was asked by MTV where the project stands.
"They're [still] developing it," Wahlberg said. "If it can be better than the first, then great. I'll be all for it. I'm not interested in going for the paycheck. I love Godfather 2 but, then again, I don't like Godfather 3."
Considering the demise of most main characters, and the high bar set by the first film, would you wanna see a sequel to The Departed?