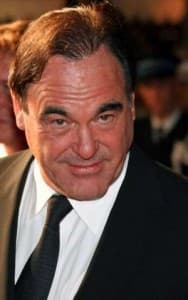 Never one to shy away from controversy, Oliver Stone's next movie is generating a wealth of it. So, what motivated the director to direct a movie about George W. Bush?
"He is one of the great characters of this time and I think he has had enormous impact on the world and our generation as well as future generations," Stone said of Bush in an interview with Screen Daily. "He achieved what his father did not by getting re-elected. ... What he does with that is the question."
According to Stone, W - which stars Josh Brolin as Bush - would be more like the blackly comic Dr. Strangelove than it would his somber biopic of Nixon. The director did say that the president's religion would be tackled in a serious manner, however.
"We must on the surface take his conversion seriously. It is the centrepiece of his change. At the age of 40, he was a drinker and he changed quite radically over a period of four years, so something happened to him," Stone said.
"Whether he became the same person on the other side of the coin is an interesting issue and I examine that too. Some of the characteristics, however, never disappeared such as the temperament, the anger and the impatience."
W is scheduled to open October 17.