Director Paul W.S. Anderson told MTV News that Resident Evil: Extinction likely will not be his last in the big screen adaption of this franchise.
"I'm just starting to talk to Sony about [Resident Evil 4]," Anderson said. "I don't even know if anything will come of it, but there's a possibility it might happen."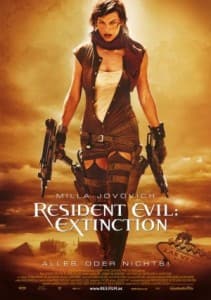 A fourth film would seem like a sure thing given the ending of the third, which saw Alice (Milla Jovovich) beside herself with rage, promising to travel to the Umbrella Corporation's headquarters in Japan.
However, Anderson, who write the first three films, says a concrete story hasn't yet been decided upon. He's still trying to determine a plausible direction for a fourth installment.
"I love the Resident Evil franchise and we always try to make the best possible movie we can. If we could find a good Resident Evil 4 to make, then we would do it," he said. "But I wouldn't just do it for the sake of it, that's for sure."