With Get Smart opening this weekend, stars Steve Carell and Anne Hathaway sat down with MovieWeb to discuss the comedy. Here are excerpts from the interview:
Did you guys watch the original TV show before diving head first into this endeavor?
Steve Carell: I steered clear of it. I didn't want to do an impression of Don Adams. I figured there was no way to improve upon what he had done. I thought the more I watched him, the more I would be inclined to do an impersonation. He was so good and so definitive in that role. I sort of backed away from it.
Anne Hathaway: I actually grew up watching the show on "Nick at Nite". I used to love it, so it was really fun to revisit that. I was one of the last people cast, so I missed the whole collaboration of it. The: "This is the movie we're making" part of it. I wanted to make sure that I understood what tone we were trying to achieve. I think we've managed to have that silly, sweet, yet sophisticated feel that the original series had.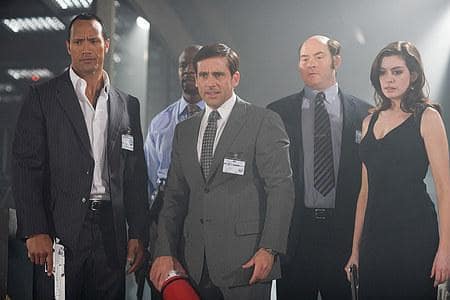 Get Smart opens on June 20.