As a member of the Black Eyed Peas, Taboo often took a backseat to Fergie.
But in his role in Street Fighter: Legend of Chun-Li, the rapper will be taking center stage... as a killer.
"I'm the hit man," Taboo of his character, Vega, a boss in the original games. "Bison, who is the mob boss, hires me to kill Chun-Li."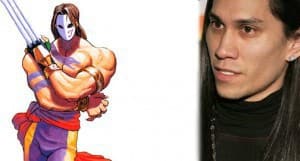 Directed by Andrzej Bartkowiak, this Street Fighter follow-up stars Kristin Kreuk as lightning-kicking Chun-Li and Neal McDonough as M. Bison. Due in February 2009, the film also casts Chris Klein and Michael Clarke Duncan in the iconic roles of Nash and Balrog, respectively.
"Vega is a character that wore a mask and a claw in the video game, and he has a humongous cult following," Taboo told MTV. "I'm playing him a little edgier. In the video game, he's like a matador from Spain. He has tights on, and he's kind of flamboyant and androgynous.
Not in this movie. Now, he's hard-core and he's bringing it. I feel like I've maximized my character, and I gave a great performance."