No, we don't have the trailer for Terminator Salvation: The Future Begins yet.
But we do have news on when fans might expect to see this movie's preview: rumors circulating around the Internet indicate that the trailer for this Christian Bale follow-up will hit theaters the same day as Bale's next film: The Dark Knight.
As if we needed another reason to go see that flick!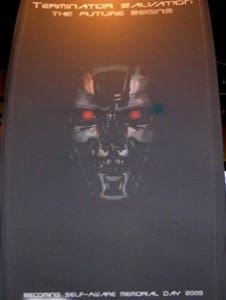 Based on posters such as this - which have been spotted around New York City - the next Terminator movie will be released around Memorial Day, 2009.