Not only do we know Seth Rogan is confirmed to star as The Green Hornet, we now know the release date for this comic book movie: June 25, 2010.
Rogan said as much in a recent interview, while adding that Stephen Chow hasn't signed on for the role of Kato, but those behind the project would"love to have him" as that character.
"We weren't even sure going in we could be more of a Jet Li type guy who maybe isn't the funniest guy in the world, but he's physically very impressive, or whether it would be more of a Stephen Chow type guy who can do martial arts, but clearly has a sense of humor," the Knocked Up star said.
"In the version that we've made it seems like a Stephen Chow type guy would be more suitable for the role. Again, until they officially greenlight it, it's hard to make any of those decisions."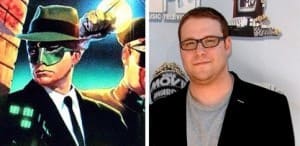 Rogen said the movie will focus on the humorous nature of the relationship between Kato and the title character.
"It's kind of a funny dynamic and a funny relationship and no movies really did that except Batman & Robin. No movies did that well," he said, taking a deserved poke at that George Clooney mess of a film.