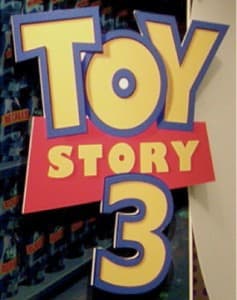 Hot on the heels of nicely summarized
Iron Man 2 spoilers
, here's a look inside
Toy Story 3
.
John Ratzenberger, who plays Hamm the Piggy Bank, recently told MTV that his character would have dual roles in the Pixar follow-up:
"Hammy is a villain in the beginning of the movie. [But then], Hammy becomes a superhero. You'll see."
We certainly will see, as 2010 can't come fast enough for fans of the first two great movies.
In Toy Story 3, Woody, Buzz, and the rest of the toy gang are left at a day care center when Andy goes away to college. (Are we the only ones feeling incredibly old at the thought of Andy in college?!?)
Whatever adventures are in store, viewers can reportedly look forward to a whole lot more of Mrs. Potato Head.
"[It's] wonderful!" gushed Estelle Harris, who voiced the wedlocked vegetable. "I have a much bigger part. Toy Story 2 was my entrance, and I was a newlywed. But now, I'm still very much in love with Mr. Potato Head."
It's nice to see some marriages in Hollywood last.