Let the Transformers 2 hype begin!
The following advertisement is on display at Hasbro Headquarters in Rhode Island: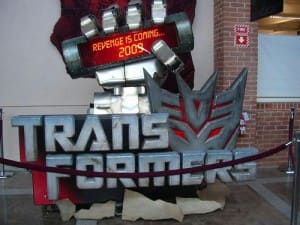 Meanwhile, many movie fans have scoured the Internet and discovered set photos and videos from the filming for Transformers: Revenge of the Fallen. These take place at Princeton University... but for what purpose?
"[The university angle to the plot] "is all about Sam growing up and going to college... a teenager growing into a man," Director Michael Bay said of the locale.
A man who plays with menacing robots, that is.