Hey, John McClane did it after 12 years.
Indiana Jones took 19.
So what's to stop Willow from making a long-delayed sequel?
If this follow-up never happens, it won't be for lack of desire on the part of Warwick Davis; the actor told MTV News he'd love to come back for another Willow.
"I would definitely greenlight a Willow sequel. So many people ask me about that. Every day people want to see another movie," he said. "I'd be very excited for it, because I was 17 when I did that movie and to go back and have another chance at the character now. I've learned so much more, it'd be great."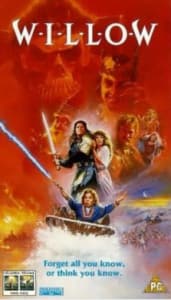 How excited would we be for Willow 2? Answer: very!
Davis added that he already has an idea about where he'd like to see the sequel go.
"I would like, perhaps, [to see] my kids grown up. I'd like to meet up again with Madmartigan [Val Kilmer], see how he's getting on. See how everything might have gone wrong with the princess who's grown up, see how her life turned out," Davis said.
"But I think [most of all] plenty more action! Now they have CG. Imagine what we could do with special effects now compared to 20 years ago!"
In other, possible sequel news: how awesome would Anchorman 2 be?!?