While the mere concept of Zack and Miri Make a Porno - a comedy about two platonic friends attempting to raise money by making an adult movie - sounds hilarious enough, star Seth Rogan said he wouldn't sign on for the film unless the dialogue was "loose."
In other words, writer/director Kevin Smith - the man behind Dogma and Mallrats - had to agree to let the actors freelance and improvise the lines a bit.
Once Smith agreed, Rogen was on board... and the rest appears to be comedic gold!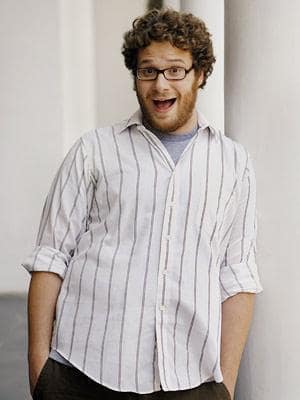 Seth Rogen believes in funny, natural dialogue.
As long as the MPAA gives Zack and Miri Make a Porno an R-rating, Rogen told MTV News that audiences will find a new voice from Smith on October 31.
"I've seen the movie, and there's a lot of improvised stuff in it, and it gives it that less-stilted feel. It feels more like a naturalistic movie," Rogen said. "[In some comedies] you can just see the guy behind the keyboard writing it, you feel as though you see the guys reading it and memorizing it, and I don't like that all…If it's a movie that's supposed to be real and take place in the real world, I need to feel like the characters are actually having these conversations.
"[I felt like that] with Juno. I love that movie, but again it feels really written to me; it's really clever how one line leads directly to the next one, but life just isn't like that."