Not surprisingly, Sacha Baron Cohen's Bruno is creating havoc around the country.
The Associated Press reports that the gay character of Bruno caused a major ruckus in Arkansas last month at a pair of cage fighting matches. At a June 6 match in Texarkana dubbed "Blue Collar Brawlin'," a "wrestler" named "Straight Dave" challenged a planted audience member to a fight.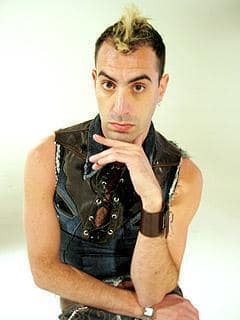 Of course, instead of a brawl, this led to a staged homoerotic scene where the two men, stripped to their underwear, grappled, groped and eventually kissed each other as the audience exploded into a bottle-throwing tizzy.
The convention center had to be cleared and the actors involved reportedly fled through a tunnel.
The untitled Bruno movie - whose full title is rumored to be Brüno: Delicious Journeys Through America for the Purpose of Making Heterosexual Males Visibly Uncomfortable in the Presence of a Gay Foreigner in a Mesh T-Shirt - is scheduled for a 2009 release.