High School Musical 3: Senior Year is the first film in this franchise to be released in theaters.
As the cast and crew film inside Salt Lake City's East High School, USA Today was on the scene for a recent feature story. Here are highlights from it:
The first High School Musical was shot for $4.2 million; the second, $7.8 million.
Pictured below, Ashley Tisdale (as Sharpay Evans) stars in a dream-sequence number I Want It All, which took three days to shoot.
Troy's basketball jersey has been retired, displayed up high next to those of his father and best friend, Chad.
The finale of the film is a graduation scene. It's a big song-and-dance number shot on the football field, inspired by Super Bowl halftime shows and the opening and closing ceremonies of the Olympic Games in Atlanta and Salt Lake City.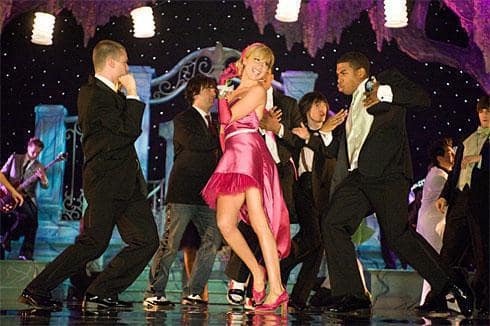 A scene from High School Musical 3: Senior Year.