You needn't be a Trekkie to know that Captain Kirk and a certain Vulcan are unlikely close friends in this long-time franchise.
But writer and director J.J. Abrams says his upcoming Star Trek movie will focus on the relationship between this odd couple. At a Television Critics Association panel, Abrams said:
"We never saw how Kirk and Spock became so connected, and this movie [reveals that]."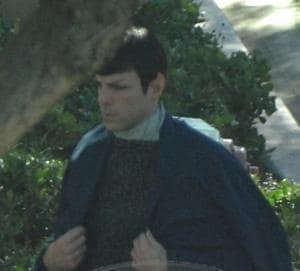 A set photo of Zachary Quinto as Spock.
So, how does the director feel about Heroes star Zachary Quinto's performance as Spock?
"Zachary is extraordinary," Abrams said. "[He brought "gravity and an enormous sense of humor [to the role]."
Star Trek is set to be released on May 8, 2009.