British actor Luke Goss makes his mark in America with his portrayal of Prince Nuada in Hellboy II: The Golden Army. He recently spoke to Entertainment Weekly about the role:
What can you tell us about Hellboy II?
The first film I thought was kind of cute. But this one is way, way more magnificent. The intensity is tenfold. The stories that run through this film are much more complex than the first. My character, Nuada, is technically the bad guy. But his whole premise is to do with nobility and the rights of his people. I would defy anybody to not understand exactly why he's doing what he's doing.
And that's the cool thing. Del Toro doesn't want to keep it that simple. The same as with the ending — I won't say anything, but there's nothing stereotypical about it.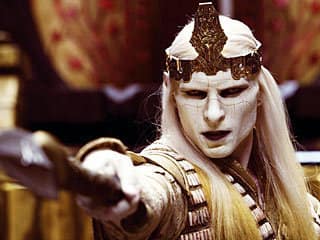 Was it a tough shoot?
I don't think I'll ever do a film that's harder than this. I filmed a movie called Bone Dry, a thriller in the Mojave desert in one of the hottest recorded summers, for five weeks. And it was a walk in the park compared to Hellboy. It was six-day weeks for nine months. I had 22-hour days sometimes. I remember getting home at 12:45 at night and then getting my wake-up call at 2:50 the same morning and just going to work again.
Literally, Ron, Selma, Doug, and myself, we were literally sometimes in our chairs with our heads down — like, gone, out — and the assistant directors would wake you up and you just strike a pose, like, whose arse are you going to kick now? You don't know where you are.
Hellboy II: The Golden Army opens this weekend.