For those that aren't satified with the Terminator Salvation trailer, director MgG has revealed a handful of spoilers for the 2009 reinvention of this franchise.
At Comic-Con over the weekend, the director with the silly name was surrounded by cast members Sam Worthington, Anton Yelchin, Moon Bloodgood and Bryce Dallas Howard. Here are a few facts about the film he let slip:
Fear is a major theme of McG's motivation for the movie. In order to make Terminator Salavation, he said he had to take a different approach than he did with Charlie's Angels: "I needed to face what I most afraid of."
From the use of fear to modern technology, the director explained that the latter was a Pandora's box. Stealth bombers and Osprey planes are among the machinery increasingly evident in the new movie.
The specific, other-worldy look and feel of Terminator Salvation one of the hallmarks of the new film's dystopia. McG said he "wanted to create a new film language." He even worked with Kodak to add three times the usual amount of silver to the film stock. Why? Because he wants creates an "ethereal quality that suggests something is off."

Does all this makes you more excited to see Terminator Salvation (if that's even possible, of course)?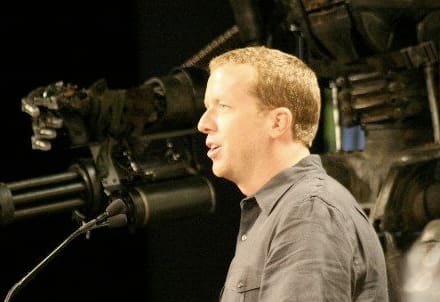 McG, at Comic-Con, explaining the motivation behind Terminator Salvation.