With the Mike Myers' career floundering more than Dr. Evil's plans to take over the world, it appears as though the actor is serious about developing a fourth installment of the Austin Powers franchise.
Back in May of 2007, Myers said it was "developing a fourth [movie], entirely from Dr. Evil's point of view."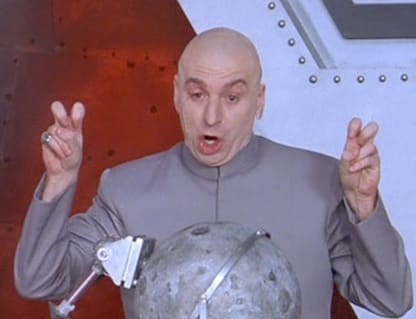 We love Dr. Evil. But do we really need to see him in a fourth Austin Powers movie?
Now, Deadline Hollywood Daily is confirming that stance, providing a few more details about a possible Austin Powers 4. The site reports:

Mike Myers has started writing Austin Powers 4, which will be a homage to his father. An insider says, "it's very personal with a father and son theme loosely based on his own life."
As Myers has previously said, this fourth installment of the super spy spoof movie series will focus on Austin's arch-villain Dr. Evil, who was based on Blofeld of the Bond films. But what hasn't been known is that the Austin Powers 4's plot is really about Dr. Evil and his son.