We weren't shocked to hear talk of a Wanted sequel.
But Sixteen Candles 2?!? Can't say we saw that rumor coming.
Star Molly Ringwald is urging writer/director John Hughes to make a sequel of 1984 movie. Indeed, 24 years later, the actress is campaigning for a follow-up to that iconic film, years after Hughes shot the idea down.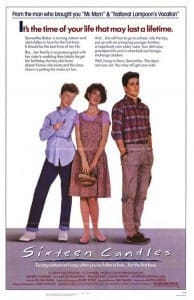 "It was something that I definitely wanted to do, but John Hughes wasn't interested, and I didn't feel comfortable doing it without his involvement," Ringwald told AOL Television. "If we can get John to agree, I think it would be great. I think there are definitely a lot of people who would love to see it, and I would love to do it."
We don't actually remember the plot of Sixteen Candles, but Rungwald thinks it "lends itself to (a sequel). It was such a Cinderella story. And I was interested to see what happened to this girl."
Would you see a Sixteen Candles sequel?