Here's another character preview for the upcoming Watchmen movie:
Patrick Wilson (Hard Candy, Little Children) takes on the role of Nite Owl in the big screen adaption of this comic book series. In an interview with Entertainment Weekly, the actor talked about the man formerly known as Dan Dreiberg.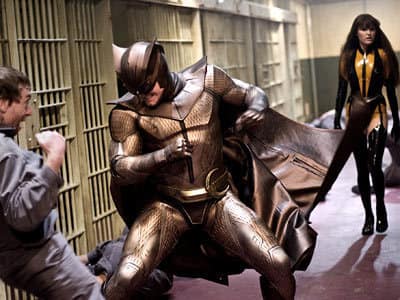 Patrick Wilson is Nite Owl and Malin Akerman (in the background) is Silk Spectre in Watchmen.
As an outlawed super hero, Nite Owl mopes around in a stupor. Wilson described the masked avenger to the aforementioned magazine with the following quote:
"He's a big man who's gotten soft."