Pineapple Express co-stars Seth Rogen and James Franco recently sat down with MoviesOnline to discuss their upcoming comedy. Here are a few highlights of the interview:
MoviesOnline: What was the idea behind writing this? Also, James, this isn't something we'd normally expect to see you do. How did this come to you and why did you say yes?
Rogen: The original idea came from Judd [Apatow] actually. He just kind of had the loose notion of like, 'What about a weed action movie?'
Me and Evan thought that could be rad and basically we started thinking about making a movie that was kind of a weed movie and action movie and had a real kind of friendship story to it then that would be our favorite movie ever. We originally actually wrote Franco's part for me and the part I ultimately played just for someone else in general and then when we got Franco involved we thought it was a good idea to switch the roles. I think it worked really well.

Franco: I hadn't done a comedy for a while. I had directed a very low budget movie called 'The Ape' and it was playing at a festival in Austin. Judd was there and he came and saw it and it's kind of funny.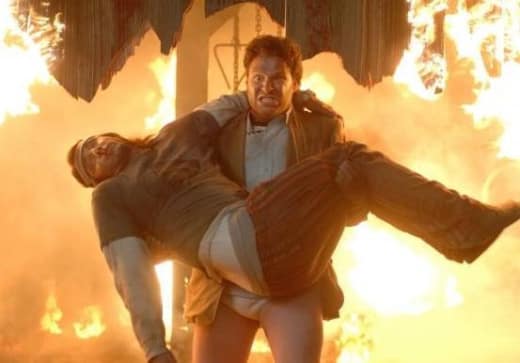 Seth Rogen and James Franco in a scene from Pineapple Express.
Rogen: I think it's funny.

Franco: Thank you. After he saw it he said, 'I miss the funny Franco.' I hadn't really done a comedy other than 'The Ape' since 'Freaks and Geeks'. So then we started talking about ideas and he said, 'Well, I'm going to do this movie "Knocked Up" with Seth, but after that you guys should do a movie together.'
I read it and thought that it was very funny, but I said, 'Oh, Seth, you get to play the good role, or the role that I want – Saul.' They were like, 'Nah. You can play Saul.' I think around that time I met David, or well we all met at 'Superbad' and Judd said, 'I'm thinking about having him direct.' Sounded like a good idea.