Take this rumor with a grain of salt the size of Samanth's libido, but sources say a Sex and the City movie sequel is in the works... but Carrie will not be the focus of it!
Rumors are flying that Kim Cattrall has pitched a plot for the follow-up that would put her character in the spotlight.
"[Sarah Jessica Parker] threatened to boycott the sequel if Warner Brothers agreed to Kim's plan. Sarah said she'd withdraw her producer credit and put pressure on Cynthia Nixon and Kirstin Davis to not participate," the source said.
Of course, if Parker is truly against this story line, she can nix it. The actress has the final say on any Sex and the City movie script.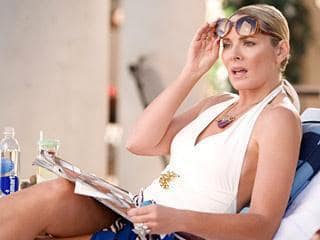 Would you see a Sex and the City movie that prominently featured Samantha over Carrie?