Eric Brevig is a special effects expert behind such summer blockbusters as Men in Black and The Day After Tomorrow.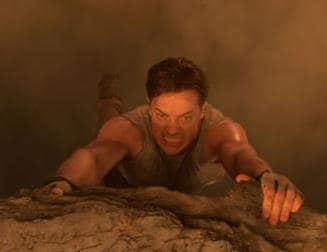 Now, Brevig is working on Journey to the Center of the Earth, a modern day update of the Jules Verne classic from the 19th Century - in 3D! He recently spoke to ComingSoon.net about the project:
ComingSoon.net: You've worked with 3D before, but when you were first approached to do this movie using this new technology, what was the learning curve like?
Eric Brevig: The 3D part of it was the same. I had a choice of shooting the movie on film or HD digital because if you capture on film, you can transfer to HD and then you can continue the process, in post the same way we did. I wanted to learn more about HD photography just to make sure that there wasn't anything too unpleasant that I was getting myself into if I decided to go that route.
That's definitely the future of cinematography, and I wanted this to be like a cutting edge, never-before-done approach to filmmaking, but I had to make sure the image would be halfway decent when I was done. I talked to a lot of people who worked in HD including Fred Meyers, the person who is my video engineer… he has a much better sounding title ("HD engineer")…
but anyway, he was the person in charge of the image capture on "Star Wars: Episode III," so he definitely was the top person in the world to talk to. He walked me through it: "This is how to record imagery that looks very good in HD, it looks as good as film if you follow these restrictions" and so forth. There's so many benefits to working in digital capture in that you can see your playback immediately and you can watch on the monitor in full resolution.
You can go into a 3D tent. What we did is we had a full-size screen because I needed to see the imagery full size because our eyes don't scale down.