For Andres Dominguez, there's no business like snow business.
The special effects guru - who has worked on movies such as Seven Years in Tibet, Fantastic Four and X-Men: The Last Stand - recently spoke to The Los Angeles Times about his work on The X-Files: I Want to Believe:
Winter wonderland: While shooting on location in downtown Vancouver, Dominguez says his initial instruction was to make the set look "like Alaska: completely covered." But the city doesn't get a lot of snowfall, so budget restraints kept the shoot limited to melty snow drifts.
"We ended up with a look where it had snow on the sidewalks and the streets are kind of wet," he said.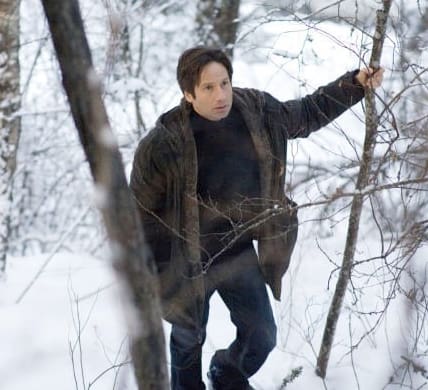 Mulder makes his way through (fake) snow in The X-Files: I Want to Believe.
So, how does one even go about manufacturing snow?
"To make snow, you need lots of air and high-pressure water," Dominguez said, adding that ideal temperature conditions are "if the weather's below zero [Celsius] and low humidity. So when it was minus 10, the machine was running full on... If you do a flat area, you can probably put a layer of snow 4 inches high in five hours."