Director Christopher Nolan spoke to Entertainment Weekly about Heath Ledger for this week's issue .
Here are highlights of what Nolan had to say about the man who plays The Joker in the The Dark Knight:
On Heath's commitment to his character: "The guy had serious nuts. What I needed was someone who wouldn't be afraid of the comparison with Jack Nicholson. And then I saw Heath's incredible performance in Brokeback Mountain. Such a lack of vanity. This was an actor who wasn't afraid to bury himself in his character â€" to a massive extent."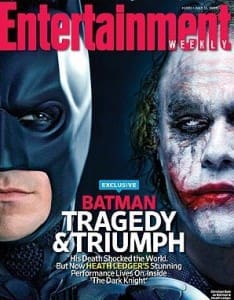 On Heath spending months working with a voice coach fine-tuning the Joker's cackling cadence: "He tried to articulate to me what he was doing with his voice, but it was sometimes hard to understand. He talked about ventriloquist dummies, the way their mouths moved, the way their voices wouldn't appear to come out of them. He said he wanted the voice to have a mocking quality, a sort of disconnectedness."