As The X-Files: I Want to Believe gets closer to its release date, the film's two stars are making the publicity rounds.
Earlier this week, David Duchovny and Gillian Anderson spoke with Dark Horizons about getting back into the roles they made so famous.
Question: Can you talk about getting back into these characters after a five or six year period?

Duchovny: Well, I had two weeks before Christmas of basically running around and chasing Callum Rennie who plays the running bad guy that I chase all over the place. That took a good two full weeks of running even though I know it's only about ten seconds in the movie and then Gillian and I started working on it after Christmas break.
The first two weeks I felt a little awkward and I didn't really feel like I wanted to do longer scenes. I was just fine running around. Then as soon as Gillian and I started working and it was Mulder and Scully, then I kind of remembered what it was all about and that relationship kind of anchored my performance just as I think the relationship anchors this film.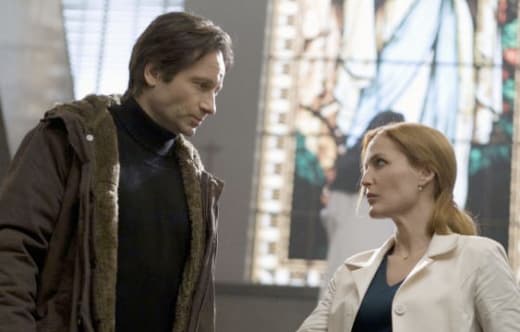 Mulder and Scully are back in The X-Files: I Want to Believe.
Anderson: I had a similar experience. This feels so weird. Summertime. I didn't have all the running around that David had to do, but I did have my own unfortunate beginning which was starting with one of the most difficult scenes for Scully in the film where it's later on in the script and she goes through a range of emotions in confronting Billy Connolly's character. I just had a really hard time for those first couple of days.
I had a really hard time just finding her, finding her voice. I think I must've gone through ten other characters in the process of trying to get to her when I had assumed that I would be able to show up on the first day and it would just be there. It wasn't until I think day three when we got to work together, not just necessarily in a familiar environment which it really wasn't, but in the environment of each other and the relationship and that it kind of felt natural and familiar and I felt like I'd landed this time.