Say this about Eddie Murphy and Mike Myers, whose previous movies - Meet Dave and The Love Guru - completely tanked:
They're persisent.
Each recently talked to MTV News about their future projects, each sounding excited to put past failures behind them.
"This picture I'm doing now called A Thousand Words is like nothing I've ever done before. It's not a kids movie, a family movie. It's a really, funny smart picture. Different," Murphy said. "I play this literary agent who finds out he only has 1000 words left to say and then he's going to die."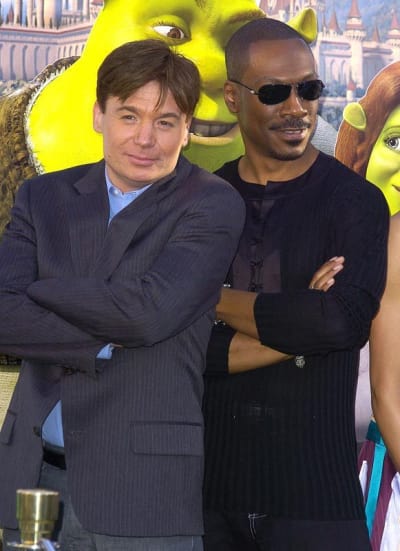 Eddie Murphy and Mike Myers teamed up to voice characters in Shrek. The career paths of these actors have been on a downward spiral ever since.
Yes, it's high concept project from the actor .Forget about the debate over Beverly Hills Cop 4, and whether it will or will not contain profanity; the second half of this movie won't contain words. At all.
"The whole second half of the picture, my character can't talk," Murphy said.' This is a guy who's used his mouth. He's always fast talking, and all of a sudden he has to shut the f—k up," Murphy said. "It turns into this like charade."

Meanwhile, follow this article's jump now to read aboutMyers' long-in-development film on legendary Who drummer Keith Moon...


"Keith Moon redefined drumming. I mean, there was drumming before him, and then drumming after him,"
Myers said
of the real-life character. "His life is just so colorful and fascinating."
Moon died from a drug overdose in 1978 at the age of 32. So what, if anything, is there to learn from his life?
"His name is Moon. And a moon is a non-self-luminous object. It requires sunlight of others in order to be seen. If there's no sun, the moon is invisible," Myers opined. "And the script so far is about how important it is to be your own star and not be a moon, ironically.
"It becomes a cautionary tale of drugs. They are not the answer and in this movie you see how not the answer they are... It's very moving."