Wrier Adam McKay has teamed up again with Will Ferrell for the upcoming comedy Step Brothers.
When these two sat down with ComingSoon.net to discuss that project, however, focus turned to the exciting possibility of a follow-up to an earlier film that focused on a certain, arrogant, clueless news man.
"We just had so much fun making that movie, and it was hard to get made, but what's been great is that it's taken on such a life of its own," Ferrell said about Anchorman, while hinting at the possibility of a sequel. "At least the feedback we get is it's beloved, so yeah, it's just one of those that feels like an evergreen thing that we can go back and do it again."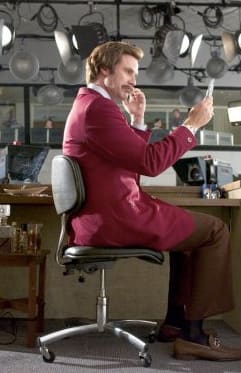 Ron Burgundy gets himself ready for an Anchorman sequel.
McKay also commented on the rumors of Anchorman 2.

"We had a lot of ideas," McKay said. "The opportunity to be that free and loose. The audience would give us a lot of rope with that character at this point, a lot of free rein. They all know it, and they all know it's going to get crazy, and that's just too tempting. It's like oh my God, where can we go? What's the next level of this idea we can push to?"
A suggestion of showing Ron in the 1980s has been flloated, McKay added.
"We got about seven ideas we're kicking around right now, so somewhere out of all of them, it will somehow fit together."