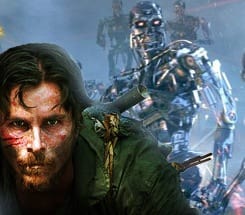 IGN recently spoke with
The Shield
creator Shawn Ryan about "production rewrite" he underwent for
Terminator Salvation: The Future Begins
.
Here are excerpts from the interview with Ryan:
IGN: How did you get involved on Terminator and how long did you work on it?
Shawn Ryan: One of the producers, Dan Lin, was familiar with my work and I sort of put the word out that I was looking for a movie rewrite job while I had the time to do one. I came in three weeks before filming began and took a pretty big whack at the script. I spent a lot of time with McG and with Dan and with [producers] Moritz Borman and Jeanne Allgood, who are also producers on the film, just sort of talking about where they were on the script they had and what needed to be changed and what we'd change it to.
I'd spend the days in Albuquerque talking about what needed to be changed and I'd go to my hotel room and sort of write all night, until like 4 in the morning. So we did a lot of work and then I had to come back because of TV commitments and I think they've subsequently brought in one or two other writers to continue the work.
So I don't know what will be there. But I got to meet with the actors – meet with Christian Bale and Sam Worthington and Anton Yelchin and Moon Bloodgood, who are all in the film and talk to them about the characters and do some work on that. It's a franchise that I've always been really enamored with and I always loved those stories and it just felt like a great opportunity.
IGN: Knowing Christian Bale was playing John Connor, did that inform your writing of the character?
Ryan: Absolutely, yeah. I watched some of Christian's films just to try and get a sense of his voice and had a meeting with him and McG to talk about it. He's obviously a smart, wonderful actor and he's not going to put up with s***ty lines. [Laughs] So it put some pressure to make it good.
Check out the Terminator Salvation movie trailer now!