Ben Stiller wrote, directed, produced and starred in Tropic Thunder. Did the star mind all the work?
He was recently asked about it by MoviesOnline. Here's Stiller's reply:
The hardest scene for me in the movie was the scene after the action sequence in the beginning. Strangely, like the scene in the movie, it doesn't really stand out as looking that complicated, but just shooting the movie crew and shooting the reveal of the movie set.
I think it was the combination of having these fake arms on and my hands were tied behind my back and I was playing an actor who was trying to tell the director to cut and the director was saying "Don't cut" but I was the director in real life.
It was very confusing and there was a lot going on and there were so many people in the scene. The action stuff was so specific and we'd spent so many months prepping it with storyboards and pre-viz and all that stuff gets broken down because it has to.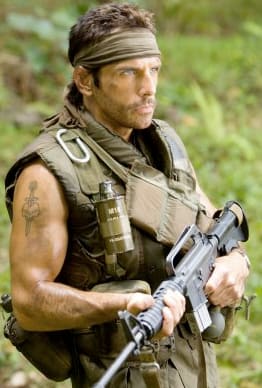 Ben Stiller takes on the role of Tugg Speedman in Tropic Thunder.
But then when we got to this scene where we had to shoot a movie set itself, that was really the most complicated, strangely, and most frustrating. I was really surprised at how hard that was. In general, the action stuff to me was really fun to do because you can actually take time with it and it's very painstaking, but you get to prep every single shot and you do it one shot at a time. While the other stuff that's more free form, you kind of have to figure it out as you go along.
When you've got five or six actors in every scene too, there's a lot of coverage with the camera. You've got to shoot everybody. We had a really good time though and we had really good time to prepare the movie. I had six months or so.
And then I got out there for a couple of weeks with the actors rehearsing with the cameraman and we shot angles and did a lot of pre-work on those scenes so that when we got out to shooting them we knew basically how we were approaching it, because I felt like I needed to do that if I was going to be acting in the scenes.