How many comic book movies are bold enough to show a rape scene?

None, so far. But that will change when Watchment comes out in the spring of 2009. The film will keep a violent scene of sexual assault from the comic intact, co-star Carla Gugino - who played Sally Jupiter in the film - told MTV News.
"It was really brutal. It was brutal to shoot," Gugino said of the scene, in which The Comedian (played by Jeffrey Dean Morgan) attacks an young Sally, who only manages to avoid getting raped by the timely intervention of fellow mask Hooded Justice.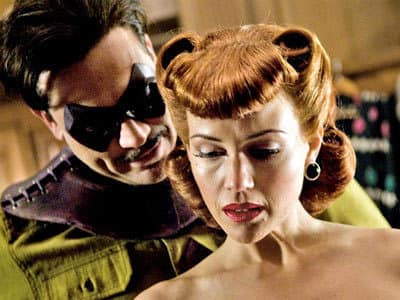 Sally Jupiter is confroned by The Comedian in Watchmen.
"That was one of the things [director] Zack [Snyder] said to me from the start: 'I really want this to be incredibly brutal. It's not a turn-on kind of story. It's bad," Gugina said. "It's important that we did that. I think hopefully it will be really powerful."
As Watchmen prides itself on, this is certainly another example of it being anything but an ordinary comic book movie.