In actuality, Dane Cook recently said in his MySpace blog that he loves his upcoming movie, My Best Friend's Girl. He wrote it "is the best/funniest film I've done yet." That doesn't say much, of course.
The comedian went on to absolutely slam the poster for the romantic comedy. We guess Cook though he was being funny, but we think he was just biting the Hollywod hand that feeds him.
Here are excerpts from the aforementioned blog, with Cook explaining why he hates the My Best Friend's Girl poster:
Here are a few things that truly blow about my upcoming movie poster to promote the release of the film opening on September 19th:

Graphics:
Whoever photoshopped our poster must have done so at taser point with 3 minutes to fulfill their hostage takers deranged obligations. They should have called Donnie Hoyle and had him give a tutorial using "You Suck at Photoshop" templates. This is so glossy it makes Entertainment Weekly look wooden.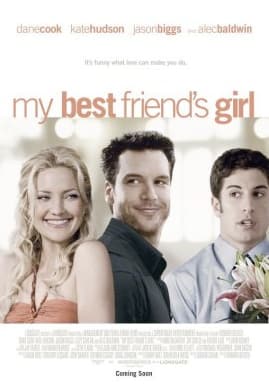 My head:
The left side of my face seems to be melting off of my skull. I guess I am looking directly into the Ark of the Covenant? Are they going for the bells palsy thing here? My left side looks like Brittany Spears' vagina.

The Stare.
My character apparently has fallen in love with a strand of Kate Hudsons hair. Kate's mannequin is desperately in love with the inside of my right ear while Jason is half stunned, half corsage.

Final thoughts:
I set out to make a movie like the contemporary men and women, that you and I respect, are making. My generation of comedians, actors, directors and producers that I wish to collaborate with as I build a solid body of work.