For Josh Brolin, in his portrayal of George W. Bush for the movie W, we assume it's all about the incompetence.
Co-star Elizabeth Banks, who plays Laura Bush in the Oliver Stone movie, told the Los Angeles Times that playing the current First Lady was "all about the hair."
"Hair speaks volumes about every politician's wife," Banks said. "And I think you'll be impressed with my version of Laura Bush's very Republican hair. I did meet Laura once, in 2003, long before I knew I'd be playing her."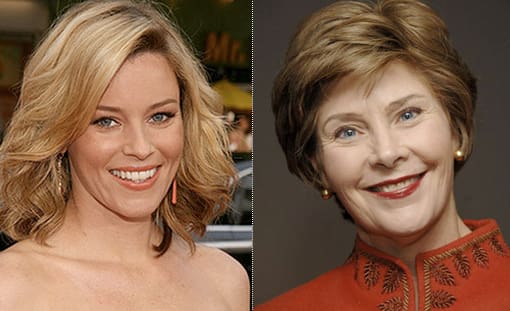 Asked about the movie's portrayal of the Bush family, the actress replied:

"The film really presents both sides. People who like George Bush will find many things in the movie to like and people who don't like George Bush will have their opinion validated as well. It's a fairly fair portrayal."
Following her gig as the First Lady, Banks will focus on making a porno with Seth Rogen. Sounds about right to us.