For the record, it's unclear if a third Hellboy movie will ever be made.
But if it is, director Guillermo del Toro has said, it "would be facing your destiny, if such a thing exists, and making the ultimate decision."
Sounds like a third movie would be the end of Hellboy, doesn't it? One important individual has a prolem with this, however: Hellboy creator, comic book writer Mike Mignola.
"The problem is, what del Toro's talked about to me is that 'Hellboy III' would be the end of Hellboy," Mignola said. "And here's where we have the big conflict. My version of Hellboy in the comics is a finite story, but it's going to take me 15 years to get to the ending. If [del Toro] makes 'Hellboy III' and it's the death of Hellboy, I'm left doing the comic going, 'But I'm not done yet.'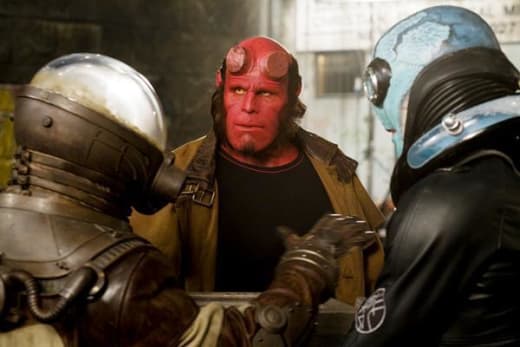 Mignola added:
"My Hellboy is going to die, but I want to be the one who does that. And if del Toro does my ending, there won't be a lot of surprise when I get to the end of the comic."
For now, the issue is moot. But we'll let you know if and when a third Hellboy movie is planned.