With Death Race about to hit theaters, Jason Statham recently sat down to discuss this film with ReelzChannel, while also touching on another movie he just completed shooting.
What was it like shooting those racing scenes? Did you get to drive any of the cars?
They had many stunt cars. Any action movie that involves cars, they have multiple copies of the same car, so when they get mangled and bashed they just slip in the next one. One of the most difficult things was the fact that they don't have a lot of vision. The cars are covered in armor and there's very little vision that you can really draw any confidence from.
It's quite nerve-wracking to know where you are and who's coming up and who's not coming up, and the track's just full of dangerous pylons and steel girders. One mistake and it's over. So, it was a massive concern for the stunt coordinators involved, just because of the danger that those kind of things present. We just had to sort of go and do the best we could.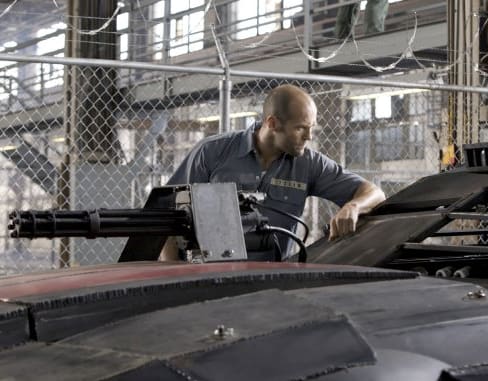 Jason Statham gets to work in Death Race.
Was there something specific you wanted to do with [Transporter 3]?
I wanted to make it better than the first two. I always felt the first one was the best one, for me. With the second one...I thought we could do better. We're always trying to do better. We just need more time and more money, and that's hard to get. If we're indulged with a little bit more money, a bit more of a budget, more time, more preparation, we can do something really, really good. But sometimes we don't get that. I think the third one's probably the best out of the three.