The role of Ben Carson in the new horror movie Mirrors doesn't seem like too much of a stretch for Kiefer Sutherland. The character yells a lot and tries to save people he loves.
Sounds a bit like Jack Bauer, doesn't it?
Still, even Jack Bauer has never dealt with evil mirrors, as Sutherland must in this film. He recently talked about it with Moviehole.
"Horror films, for me growing up weren't a genre of film that could give you any stronger a visceral reaction through watching it," the actor said when asked why he was attracted to Mirrors. "I had always heard that as an actor that is something that would draw you to a genre film. You can actually affect an audience that powerfully, and that quickly, so the genre was something I was really interested in."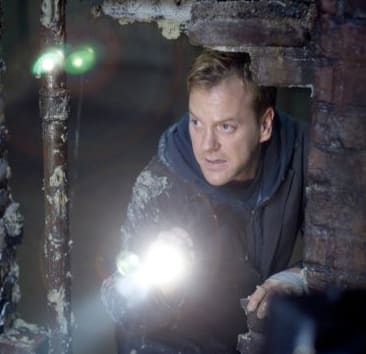 Sutherland disagrees with our assessment of the similiarities between Bauer and Carson, saying:
"This character is obviously very different and when you put the two together you can really see that, and because 24 is such a strong backdrop I think you really will see that this is a departure from that work.
I'm still trapped in my own physical body, with my own voice, and my sense of interpretation, so there are going to be similarities in everything that I do. But, I think the fact that 24 is such a strong backdrop of where I am in my career right now, this film was a great opportunity to show another part of a reflected image."