Kim Kardashian is known for having giant breasts and for starring in a sex tape with Ray J.
But now the socialite is trying to build a movie career. She stars in this weekend's Disaster movie and talked about it with TV Guide:
TVGuide.com: In Disaster Movie, what's the "clothes line" plot on which all the spoofs and gags are hung?
Kardashian: Basically, it's about a group of friends trying to get out of New York city because all these natural disasters are happening. Along the way, we spoof everything.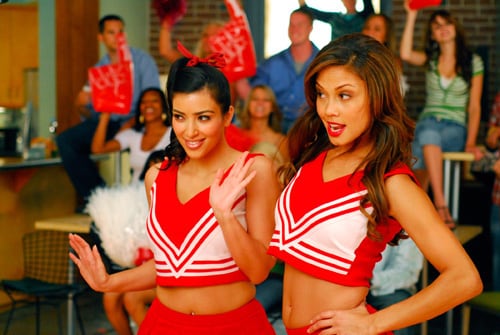 TVGuide.com: And what does "everything" include?
Kardashian: All of the superhero movies – Iron Man, Batman and The Hulk — Sex and the City, Amy Winehouse, Miley Cyrus, the Jonas brothers, Jessica Simpson and Tony Romo.... We do everything. Indiana Jones, High School Musical....
TVGuide.com: Do you have a favorite moment or sight gag?
Kardashian: The funniest part of the movie, I have to say, is Amy Winehouse. That character is hysterical. My favorite part of filming was when Carmen [Electra] and I spoof the WWE Divas, and we do a whole wrestling scene. We had to learn all these choreographed moves, so it looked way crazier than what it was. We had stunt doubles to help us with the super-crazy stuff, but it was insane.