As The Dark Knight continues to shatter box office records, and Heath Ledger continues to garner Oscar buzz, rumors are already circulating about what big-name actors will take on the villainous roles in next Batman movie.
According to Great Britain's The Daily Telegraph, two new A-list stars are being talked about for a pair of iconic roles. 

The paper, quoting "unnamed sources," reports that Warner Bros. has targeted Johnny Depp to play The Riddler and Philip Seymour Hoffman to take on the role of The Penguin.
"Producers are convinced that the role of The Riddler is perfect for Depp. Johnny's a pro. He'll be able to take direction and still make the character his own," the souce said. "And what better Penguin is there than Philip Seymour Hoffman?"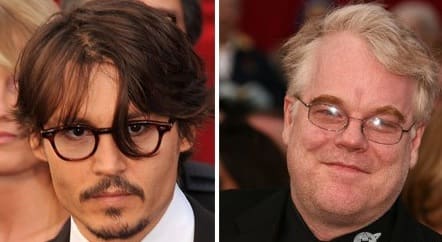 Are we looking at the next Batman baddies?

As film fans know, Jim Carey was the last actor to portray the Riddler (in Batman Forever), while Danny De Vito played the portly penguin in Batman Returns.
It's not hard to imagine Depp or Hoffman in these roles. But do you think the Batman franchise is in danger of its villains overshadowing its hero?