David Gordon Green is making his big studio debut behind the camera with Pineapple Express.
ComingSoon.net recently talked with the director about the Seth Rogen/James Franco comedy. Here are highlights from the interview:
CS: What kind of shape was the script in when you got it? Was the story in place with beginning, middle and end and they knew exactly where it was going to go?
Green: Yeah, but again, it being so highly improvised, there was a different ending, like we improvised that ending. "Well, let's see what happens if we just turn a camera on these guys at a coffee shop afterwards and they recap the movie." That was just an idea, that wasn't in the script. It ended at the barn initially, so it's just all very loose.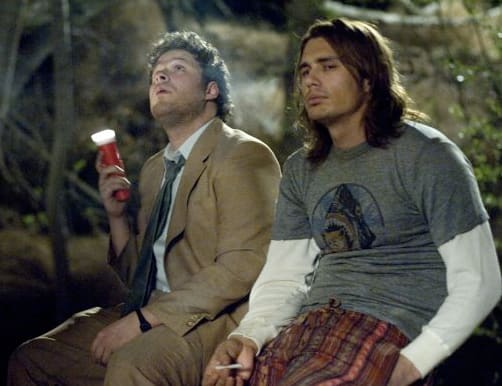 Seth Rogen and James Franco light up in Pineapple Express.
CS: While this is a comedy, there's also a lot of violence, which is done in a very realistic and graphic way, but there's also the jokes in between. I was curious about trying to find the right balance of those things so you feel they're in danger but still keep it light.
Green: It was interesting and we were worried about that at first, but we really just followed our instincts about what movie we wanted to see, and started putting that in front of an audience and the more we pushed the audience, the more they responded to it.
The gore we added and the strange humor we added, the weirder the movie became, the more positive the reaction became, so there was really every incentive to maximize its strange qualities and non-traditional qualities and really follow our initial instincts of what that balance would be.