Pineapple Express would work better as a series of YouTube clips.
There are a few funny moments - the first time Seth Rogen's character of Dale hangs out with James Franco's Saul; the duo's great car chase from the bad guys, led by a stoned Saul - but the the movie as a whole feels like a tangled web of confusion.
Especially the final 20 minutes. Once Dale and Saul track down a drug lord and his gang, who are responsible for murdering a cop and creating general havoc, the climax of the movie takes place in a warehouse. Many fights go down. Punches are thrown. Gun shots are fired. Pieces of an ear are lost. It's meant to be a satire of actual action movies (we think), but it comes across as nothing but lame attempts at suspense.
There's also a scene in the forest between Dale and Saul that leads to... running around. And that's about it.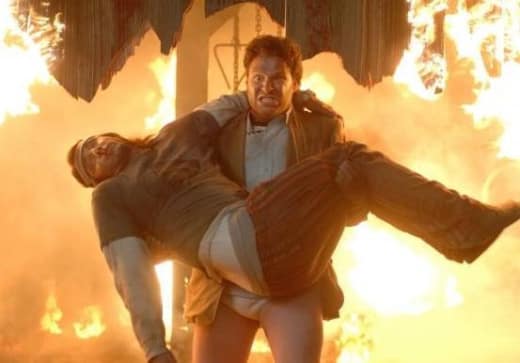 Still, Rogen is always reliable for a laugh any time he blows his top, and Franco must have actually been high throughout the film. That's how believable of a stoner he is. The scene stealer, though, is Danny McBride.
The actor plays Saul's drug dealer, a clueless sort who will say or do anything to survive. By the movie's end, though, he's fighting on the right side and it becomes impossible not to cheer on this bumbling hero.
It's just too bad he faces off against the enemy in such a confounding conclusion.