Reports that Arnold Schwarzenegger will appear on screen in Terminator: Salvation have been shot down.
However, the film's producer, Moritz Borman, may have started a new rumor when asked if the Governor would make his presence known via voiceover.
Borman, who produced all three previous Terminator movies, told Wired.com:
"Schwarzenegger is governing California. He will not be, as a person, in the film."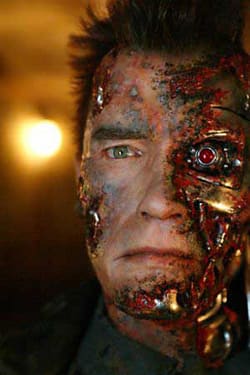 The wording above seems to leave the door to some kind of voiceover, right, Moritz?
"I'm not going to answer the question about what we're trying, or what we want, or what we're toying with," said Borman. "It's really up to what fits in the film or not. Maybe his voice, or maybe not.  It's really not settled."