Rainn Wilson portrays a creepy weirdo on The Office. But don't expect this trend to continue, as the actor told USA Today in a recent interview about his upcoming movie, The Rocker.
"No more creepy, nerdy weirdos," Wilson said. "I play one on a TV show and have played them before, and people have seen me as that. Frankly, I can do a lot more and different stuff. I don't want to limit myself."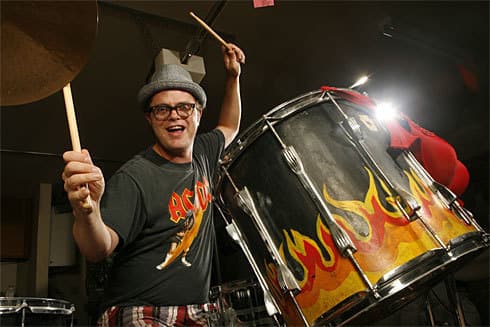 Wilson plays Robert "Fish" Fishman, a Cleveland loser whose dreams - as well as his clothes and mullet hairstyle - are two decades out of fashion. As Vesuvius, the group that unceremoniously dumped him, prepares for induction into the Rock and Roll Hall of Fame, Fishman joins his teenage nephew's garage band and hijacks its early success.
"There is always this fear in Hollywood that, 'Oh, characters need to be likable and relatable.' And I don't know if that's necessarily the case," Wilson said of his character in The Rocker.
"I think that characters need to be human and they need to be recognizable, but they don't have to necessarily be likable," he says. "That opens a whole world of comic possibilities. I enjoy playing essentially unlikable characters and really committing to it and digging in."