In The Rocker, Rainn Wilson stars Rob "Fish" Fishman, the drummer in '80s hair metal band Vesuvius. He's unceremoniously booted as the group signs a big record deal, is out of the music world for 20 years - and then receives a second chance with his nephew's band.
Below, The Office star speaks with ComingSoon.Net about the role...
CS: How did you go about finding your inner drummer to play the character?
Wilson: The first thing I started was to take drum lessons and that totally opened my mind to who this guy was when you start drumming. I play a little guitar and I've played in orchestras and stuff like that so to me music was more of a cerebral exercise. But when you drum, you're just loud and you're just pounding away.
This drum coach I was working with was all about putting on a show behind the kit. When you get into the mindset of the drummer with the sweat and the pounding and the ugly face and the whole thing, Fish (the character) just became totally clear to me. He was about letting it all loose. It's an incredible workout and it's not even of your body but about concentration. It requires an amazing amount of focus.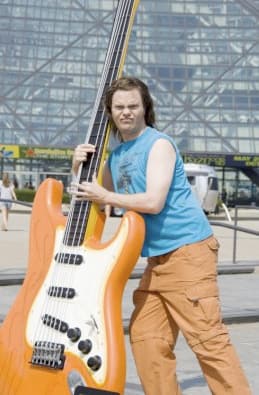 CS: Did you ever have rock star dreams like Fish?
Wilson: I got to thankfully live through a little bit of a rocker nightmare which was my shortest lived high school band ever. I did two gigs with my band Collective Moss; I wish I still had that flyer. We played two gigs, one for a bunch of 11 year-olds who ended up stealing our patch chords in a church basement. Then our second gig was an audition for the Battle of the Bands, which we didn't get into. That's how bad we were; we were not even in the top six bands at New Trier High School (in Illinois). I was the singer.