In Vicky Cristina Barcelona, Rebecca Hall seems to be the only person who doesn't kiss Scarlett Johansson.
"I got out of it, so I don't have to worry about answering that question," the British actress joked to USA Today, referring to Johansson's amorous and much-ballyhooed make out session with Penelope Cruz. "It's not what you'd expect from [director Woody Allen], I suppose. I can understand the controversy. But anyone going to see it for that reason will be disappointed."
The newspaper recently chatted with the burgeoning star:
Q: Vicky has to choose between the safety of an American husband and the passion of Bardem's painter. What would you have done?
A: She's not a predictable heroine. You'd expect her to realize that she has all this passion underneath and let loose and run off. But she lacks the courage to act on those instincts. That's human to make that choice. I'd like to think I wouldn't, but I think it's sad.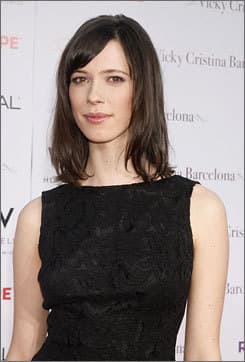 Q: How did you nail that American accent so well?
A: I didn't have a dialect coach. There wasn't enough money. I did it myself. My mum's American. She's from Detroit. It gives me confidence that I'm not being a complete fool. I'm used to the sounds.
Q: That must have helped you land the role.
A: I got a call from my agent that Woody wanted to meet me. I didn't know there was a film or a script. I went in, said hello and he asked if I could do an American accent. I said yes, blankly. He took me on trust. He said, "Nice to meet you and bye."