It's not enough to say that Disaster Movie is unoriginal. After all, the entire premise of this so-called comedy is to spoof movies that have already been made.
Sound familiar? Maybe that's because the film is from the same team responsible for Date Movie, Epic Movie and Scary Movie.
I have no objection to cheap laughs, and this crew has obviously found a reasonably successful niche. But the latest installment of the franchise reaches a new low.
Disaster Movie doesn't even star any real actors, for one thing. Kim Kardashian and Carmen Electra should only be posing topless, never spouting any lines. Their deliveres are more frozen a Stouffer's pizza.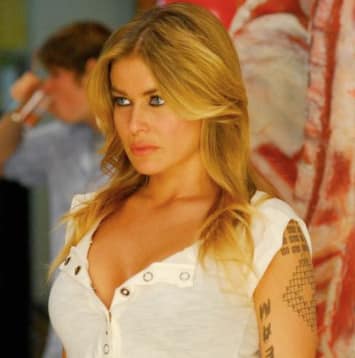 The biggest criticism of this film, however, is that it mocks movies that already mock themselves. A spoof of The Love Guru? Really? That was the most poorly reviewed film of the year, pretty sure Mike Myers went out of his way to spoof himself in it.
Or, Wanted? How do you make fun a movie about bullets that curve around corners and assassins that leap across buildings? That movie was never meant to be taken seriously in the first place.
Disaster Movie was in such a rush to spoof movies that came before it this summer, it never stopped to realize they were un-spoofable. At this rate, the people responsible for the "Movie" franchise will soon mock themselves. We can see it now: An Epic Scary Date Movie.
Uh-oh. Hope we didn't give them any new ideas.