With Tropic Thunder coming out in theaters today, we thought we'd feature Jack Black as our fifth installment of Reel Movie Stars.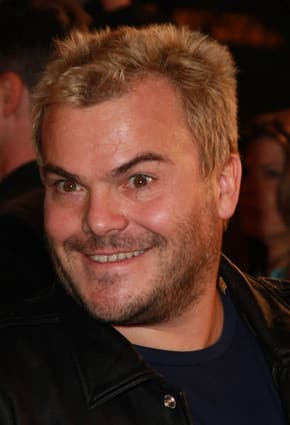 Jack Black was born in Redondo Beach, California in 1969 and decided he would become an actor after a game of Freeze after a Passover seder as a kid. After attending Crossroads School where he excelled in drama, he went on to attend UCLA until he dropped out to persue his career in acting.
It appeared his decision paid off as he was cast in small roles in movies such as Demolition Man and Waterworld and with television roles on shows such as Mr. Show and The X-Files.
Black's acting career really broke through with his role in the 2000 John Cusack romantic comedy, High Fidelty. Shortly after, Black became a leading man with roles in Shallow Hal, Orange County, and School of Rock. Now, as a full-fledged A-lister, it seems Black is unstoppable with big time roles in Kung Fu Panda and Tropic Thunder this year.
Jack Black is considered a member of the Frat Pack and appears in numerous of their movies and is also well known for his comedic rock band, Tenacious D.
Now for some cool Jack Black facts you may not know?
Both of his parents were rocket scientists. His mother worked on the Hubble Space Telescope.
Met his wife, Tanya Haden, in high school. They married after dating less than a year.
Has one son, Samuel Wyatt, born on June 10, 2006. His wife is expecting their second child.
Often competes with Philp Seymour Hoffman for roles, considers Hoffman his nemesis.
Get ready to laugh as you check out the following photo montage of Jack Black and be sure to check out his full bio and filmography on our site.