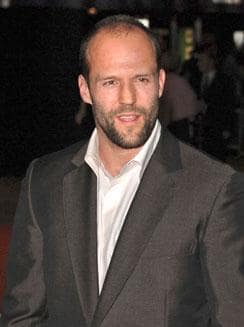 Since his debut role in the 1998
Lock, Stock and Two Smoking Barrels
, Jason Statham has quickly risen to being one of the biggest names in action movies.  Trust us when we say Statham is a Reel Movie Star.
Statham initially started off in the world of sports in both competitive diving and driving.  As a diver, Statham was an Olympic Diver on the British National Diving Team.  As a driver, Statham finished 12th in the World Championships in 1992.
Statham soon took his chiseled ahtletic body to the world of modeling.  It was when he was a model for the French Connection that he was discovered and auditioned for a role in Lock Stock & Two Smoking Barrels.  From there, Statham has been on a non-stop career filled with some of the best action movies this decade and Statham's next movie, Death Race, doesn't look to disappoint.
To honor this bloke, we put up just a fraction of his movies with a ten movie filmography, six photos, and hundreds of quick one-liners.
Now what Reel Movie Star post would be complete without a series of fun facts:
Did nearly all his own stunts in The Transporter
Well trained in several martial arts, particularly kickboxing and Jujitsu
Jason and director Guy Ritchie became obsessed with chess during the shooting of Revolver
Dated English model and actress Kelly Brook until she met actor Billy Zane on the set of Survival Island
Also dated former singer Sophie Monk
Now we'll leave you with a photo montage of this hunky action star.