Lakeview Terrace depicts Samuel L. Jackson's character of Abel Turner as a police officer that wants to rid his neighborhood of an interracial couple. It's controversial stuff.
The actor recently sat down with MovieWeb and answered the following question:
Did you attempt to create your own back-story for this character?
I try to make a reality base for the character and give him an educated background. He has a military background. I sit and think about what his marriage was like. What happened. How it all went down. There have been several scenarios as to what happened with this officer and his wife. There was a time when this guy had a wife. Their relationship wasn't so good. Now he doesn't have a wife, but interesting things about their relationship still come up. We have created a distinction for his attitude.
There were things that were written that didn't play out very well. For me, explaining racism is not something you can necessarily do. Having grown up in the segregated South, a lot of the time you don't need a reason. Someone doesn't like you. You don't like them. You can be taught not to like a specific group. Maybe something will happen to you. They say kids aren't born to hate. Well, I don't know that. Maybe they are.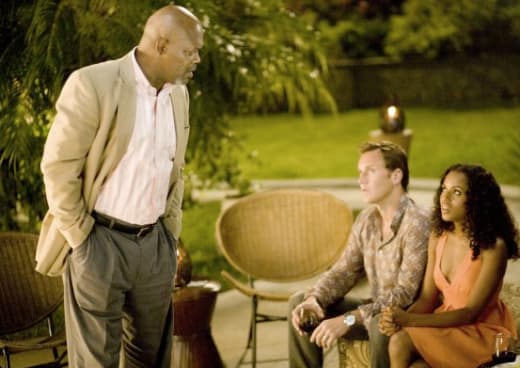 Some people have different theories about what you are born with and what you are not born with. There comes a time in your life when you have to make a decision. Only you know what is right and what is wrong. Only you can decide about what you've been told concerning a specific group of people. Maybe you know those things aren't true. Human beings are human beings. But maybe you are an ignorant human being.
Then you will believe whatever you think you want to believe. But in life, you can't not like a person just because you don't like them. In this, I didn't think it was important to describe the specific things going on inside Abel's head. Or how he got to that point in his life. Cops work with other cops. At a certain point you stop being black, white, brown, whatever. You become blue. But on a certain line, I don't believe that either. Inside the police department, there are separate fraternal orders.
At a certain point, they are blue. But also at a certain point, you will see how police officers respond to different sects or races of people. At some point, the film will describe Abel's reasoning behind his actions. But that might not exactly account for why he's been like this, because he hasn't been like this all his life. There was one specific incident that made him the way he is now.