A few months after Katherine Heigl appeared in Knocked Up - and had her movie career sky-rocket, as a result - the ungrateful actress told Vanity Fair that she thought the movie was "a little sexist."
Heigl went on to say that Knocked Up "paints the women as shrews, as humorless and uptight, and it paints the men as goofy, fun-loving guys. … It was hard for me to love the movie."
Now, for the first time, someone involved with the hit comedy has spoken up about Heigl's unflattering remarks. While promoting Pineapple Express, Seth Rogen tried to temper his response to his former co-star's words. But it got harder and harder to do as the conversation went on.
"[I] thought it would have been nice if she'd said something while we were making the movie,'' Rogen said. "We don't hire actors as purely actors. We make them creative consultants basically and really get their opinions on every aspect. There's an extremely long rehearsal process solely dedicated to having those conversations so, yeah, I thought it was weird."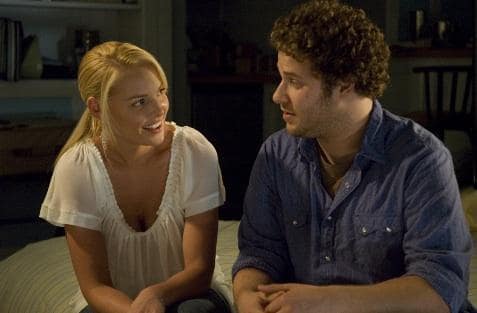 Katherine Heigl and Seth Rogen starred together in Knocked Up. Since then, the actress has gone on to diss the movie for no apparent reason.
Unable to refrain by getting a dig in at Heigl's main complaint - that Knocked Up somehw demeaned women - Rogen added:
"I mean, it won a Women's Image Network Award. Take that! She can take it up with them."