Forget The Dark Knight.
With Pineapple Express and Tropic Thunder on his resume, this is the summer of Danny McBride.
"He's the guy everyone will be talking about. That guy is unstoppable," comedian Bill Hader, one of McBride's co-stars in Tropic Thunder, told USA Today.

How does McBride feel about all the attention?
"I guess it's my big summer. I don't know. I feel like I've had more eventful ones when I was a kid," he joked. "When we went to Nags Head or something."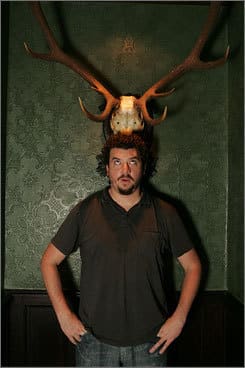 On a serious - but still funny - note, McBride owes all his recent screen time to The Foot Fist Way, a film he co-wrote with two film-school friends and made for about $80,000. They took it all the way to Sundance.
These days, the rising star just wrapped Land of the Lost, opposite Ferrell. Next up? Writing and shooting the HBO series East Bound and Down, about a burned-out baseball player.
"I've been writing around the clock," McBride said. "I do the same things I've always done — watch movies and play video games and just do nothing, talk about ideas and write. Kind of boring."