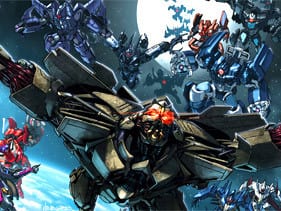 What, exactly, is director Michael Bay's plan for
Transformers: Revenge of the Fallen
?
A few spoilers have already been leaked regarding the 2009 blockbuster, but an upcoming comic book may be the best look yet into next summer's release.
Hardcore fans can look forward to a five-part prequel miniseries entitled "Transformers: Destiny" that will to bridge the gap between the 2007 film and its upcoming sequel. Writer Chris Mowry recently talked to MTV News about the project.
"[We're going to] expand on the 'Reign of Starscream' story that we're doing and tie everything in to what this next movie is going to be," said Mowry, who partners on the book with artist Alex Milne. "The next movie starts out with just tons of action and there's obviously going to be a lot of questions, so we're hoping to answer some of those beforehand."
As fans know, at the end of
Transformers
, Optimus Prime issued the call for his off-world Autobots to head to Earth. We also saw Starscream blast into space after the defeat of his leader Megatron.
Where did he go? Mowry's "Reign of Starscream" miniseries — currently on shelves — answers that question and leads directly into "Destiny."
"'Reign of Starscream' starts right at the very end of that big last action sequence in Mission City. Starscream realizes that Frenzy, the little portable jump drive had accessed all the information the humans had about the All Spark, so he gets this idea of, 'If I could get all the information that's stored within Frenzy's body, I might be able to rebuild the All Spark back on Cybertron and therefore everyone will think I'm this great leader.